Protecting Vital Assets | Security Awareness Online Workshop 2022
Medical Data Cybersecurity Risks and the ASCLEPIOS Approach
On February 14th 2022, Secura and ASCLEPIOS organized an online workshop for healthcare security professionals with the objective to improve general awareness about the security and privacy of healthcare information.

The recordings of the workshop will be published online soon!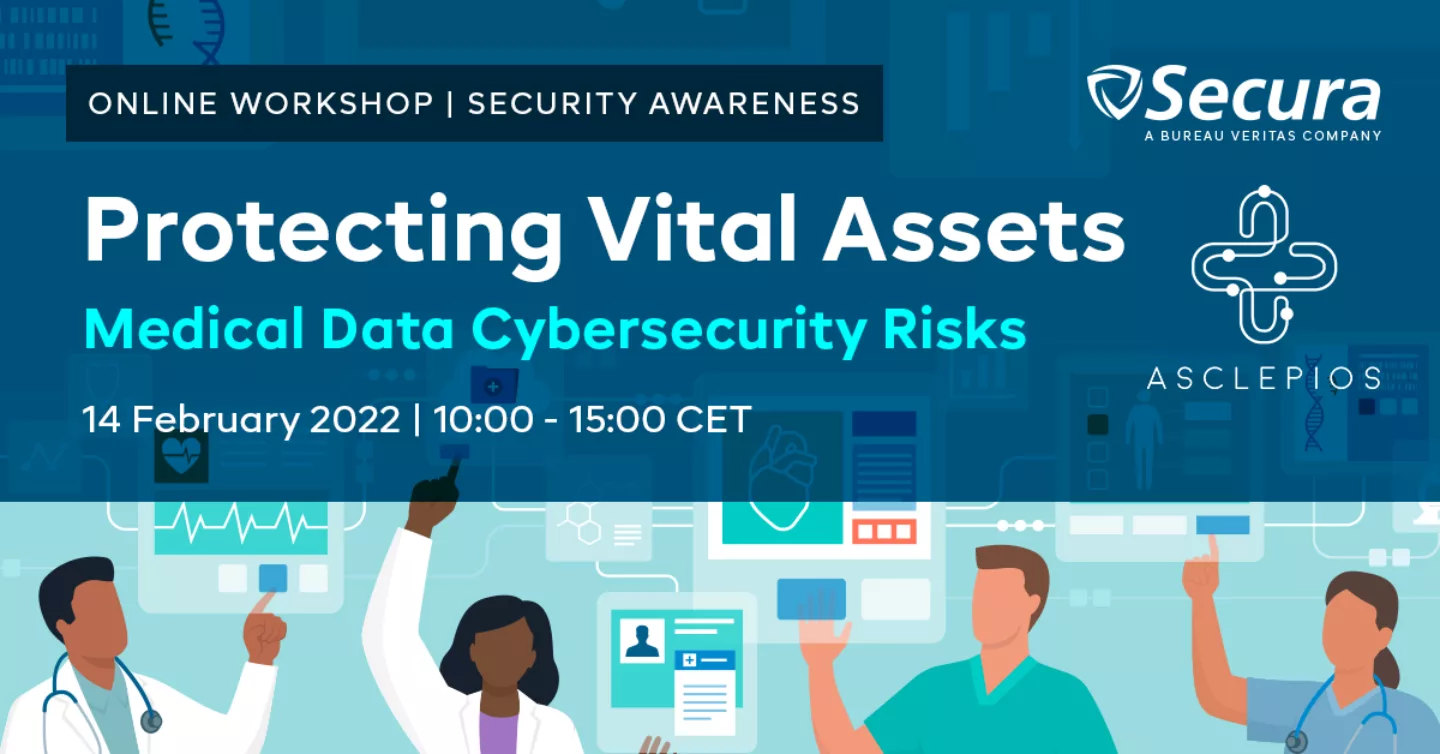 This workshop will focus on exploring the state of the art related to the transfer and processing of sensitive medical data. Attendees will participate in a comprehensive set of talks, covering aspects such as medical data privacy (GDPR), awareness aspects from the patient's perspective, and specific elements to know from an attacker's perspective. Finally, the ASCLEPIOS view and solution to the identified issues will be presented, together with the progress recorded in the project up to this point.
The workshop will be designed in a fully virtual format, allowing the audience to follow the presentations but also interact with the presenters and ask questions. Feedback forms will be made available at the end of the workshop to record the audience's impression of this virtual event and collect information that can be further included in the following editions of the workshop.
Agenda


Time

Topic

Description

Speaker

9:30

Virtual Room Open

10:00

Welcome Message and Context of the Workshop

Relevance and importance of the topic; Overview of the talks throughout the day

Razvan Venter (Secura) & Tamas Kiss (University of Westminster)

10:30

Working with Medical Data:
Patient Awareness

Threats and risks relevant to the medical data, while being processed. Best practices for secure processing of data.

Christiaan Hillen (Secura)

11:00

Threat Modeling in Healthcare Context

Threat modelling on a state of the art medical data processing platform

Christiaan Hillen (Secura)

11:30

Working with Medical Data – Attacker Perspective

Attacker perspective on healthcare environments, with a strong focus on social engineering

Christiaan Hillen (Secura)

12:00

Security of Medical Applications
Focus on ASCLEPIOS Demonstrators

Thoughts on security features that need to be in place in a connected medical architecture

Arthur Revaclier (Secura)

12:30

Lunch Break

13:30

ASCLEPIOS in Practice
Sleep Medicine Improvement

Practical demonstrator designed by HTW

James Bowden (HTW)

14:00

ASCLEPIOS in Practice
Antibiotics Prescriptions

Practical demonstrator designed by NSE

Kassaye Yitbarek Yigzaw (NSE)

14:30

ASCLEPIOS in Practice
Acute Stroke Care

Practical demonstrator designed by Amsterdam UMC

Marcela Tuler (Amsterdam UMC)

15:00

End of Workshop
Fact sheets