Automotive | Testing & Certification
Ensuring compliance for automotive excellence
Cybersecurity Compliance for vehicle manufacturers and suppliers
Secura is one of the licensed parties to support vehicle manufacturers and suppliers in achieving compliance with relevant regulations addressing the domains of cybersecurity and software updates.
Our services cover the preparation phase (through pre-audits, workshops, tailored testing) all the way to the official regulation audits, concluded with a type approval for a vehicle, or for the manufacturer's management systems.

Secura can provide security consultancy, training and testing services to vehicle manufacturers or suppliers of vehicle components and systems.
| | |
| --- | --- |
| Consultancy and support UNECE R155/R156 | Secura is a recognized party for working in line with the UNECE regulations on cybersecurity (R155) and software updates (R156). As a preparation for the official UNECE audits, Secura can support with organizing workshops, performing pre-audits and gap analysis, supporting in addressing the identified gaps, or conducting tailored testing services, in line with the requirements of the regulations. |
Compliance
Secura is one of the recognized parties who can provide vehicle manufacturers official UNECE audits, based on which compliance of the cybersecurity/software updates processes can be determined, as well as obtaining type approval for vehicle types.
| | |
| --- | --- |
| UNECE Cybersecurity/ Software Updates Regulations | As one of the recognized Technical Services, Secura can conduct official UNECE audits, in line with the requirements of the Cybersecurity (R155) and Software Updates (R156) regulations. Fulfilling these regulations with respect to the management systems, as well as the vehicle types will be needed for manufacturers in order to enter the markets under the UNECE sphere. |
| ISO/SAE 21434 | ISO/SAE 21434 is one of the currently most relevant standards for the automotive domain. Under this standard, automotive manufacturers as well as components suppliers can developer a high quality Cyber Security Management System (CSMS). The evidence resulting from this CSMS can serve as a strong basis for fulfilling the applicable UNECE regulations. |
How we support you
Secura helps large and medium sized organizations all over Europe raise their cyber resilience. We know the importance of Automotive Security and complying to UNECE R155/R156. Secura is part of the Bureau Veritas Group, a listed company and world leader in testing, inspection and certification services.
Fact Sheets & White Papers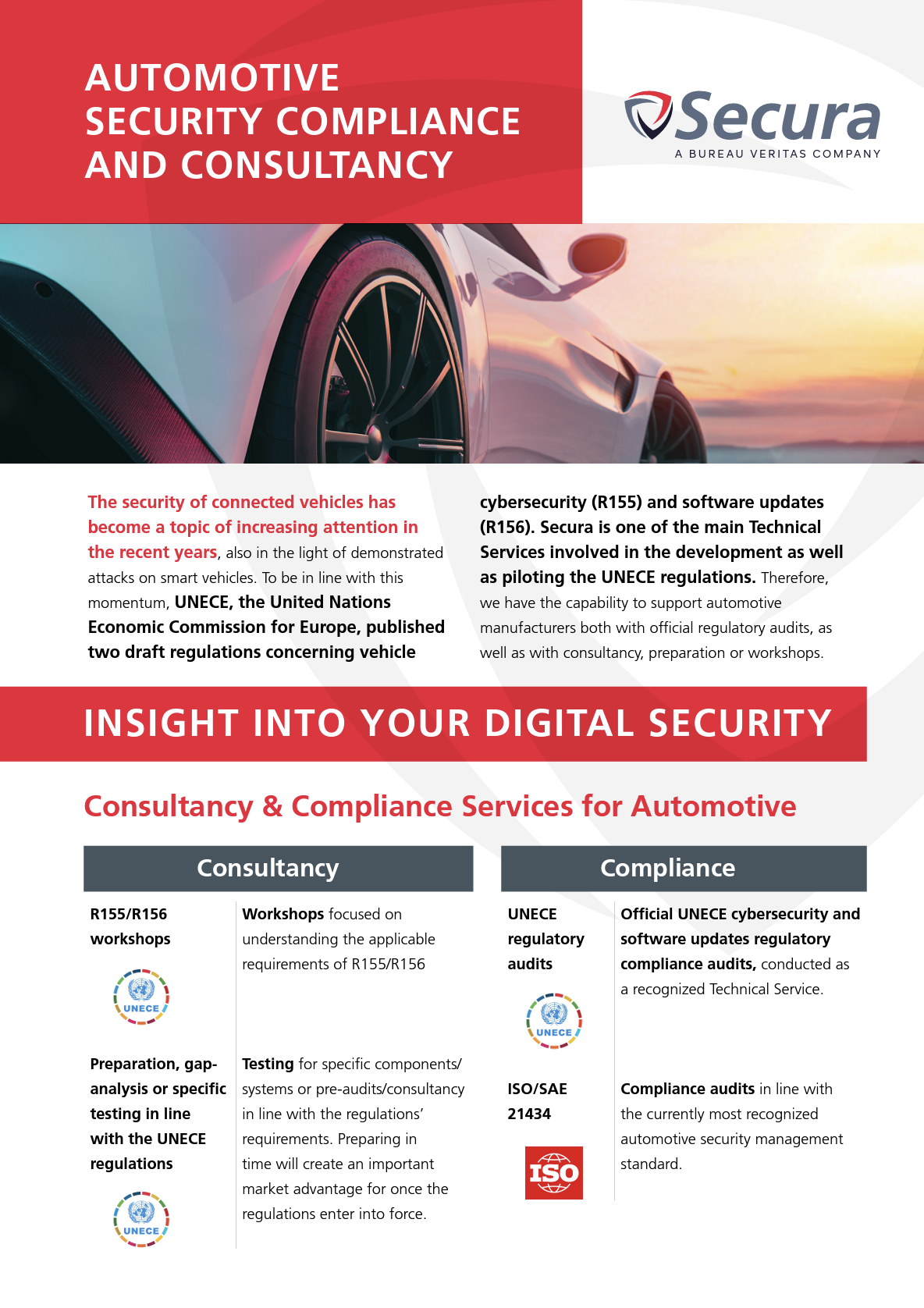 Secura Overview Automotive Security
Overview of our automotive compliance and consultancy services
Download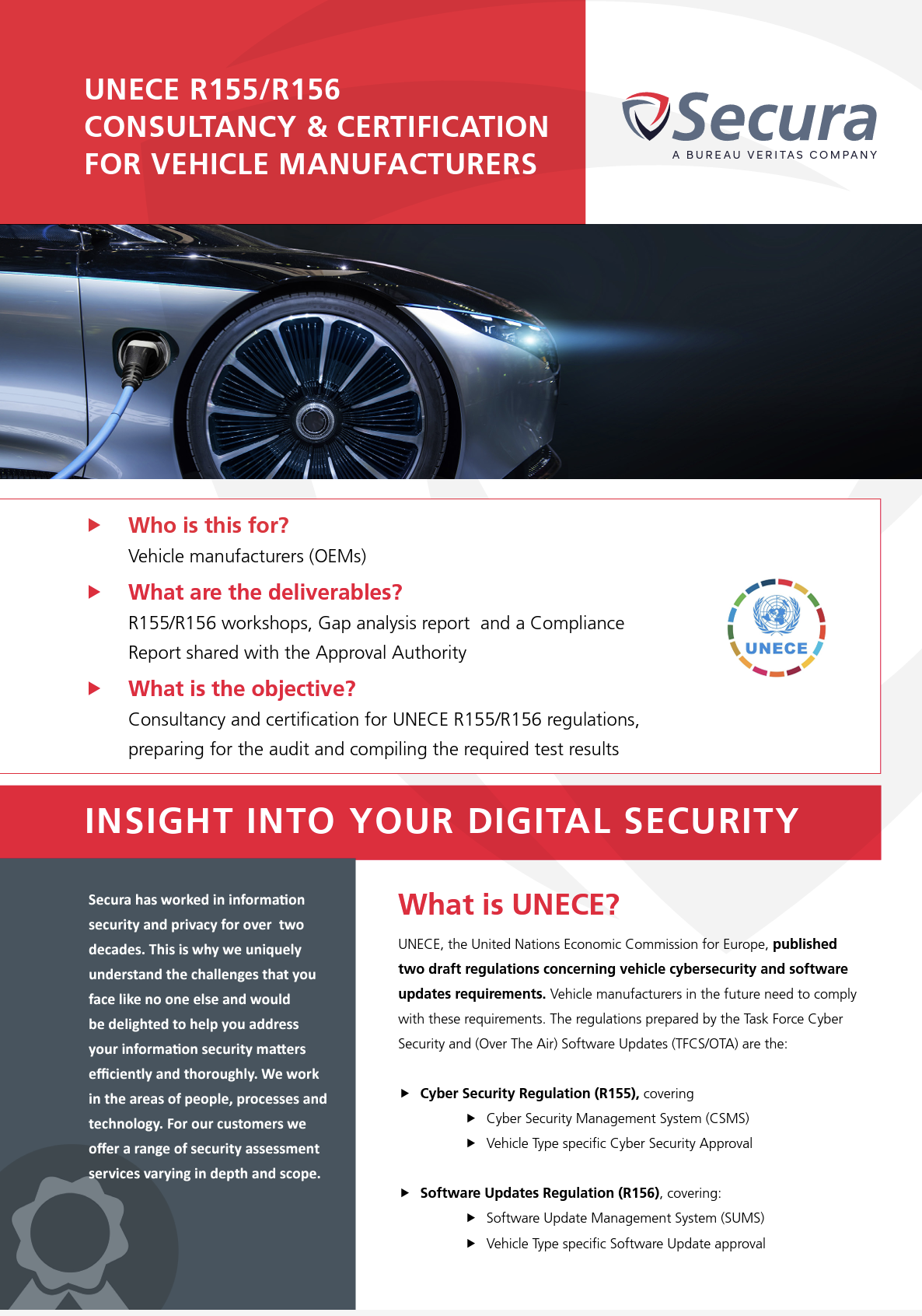 Secura UNECE Automotive Regulations
Overview of UNECE Automotive Regulations & Secura's services for Vehicle Manufacturers
Download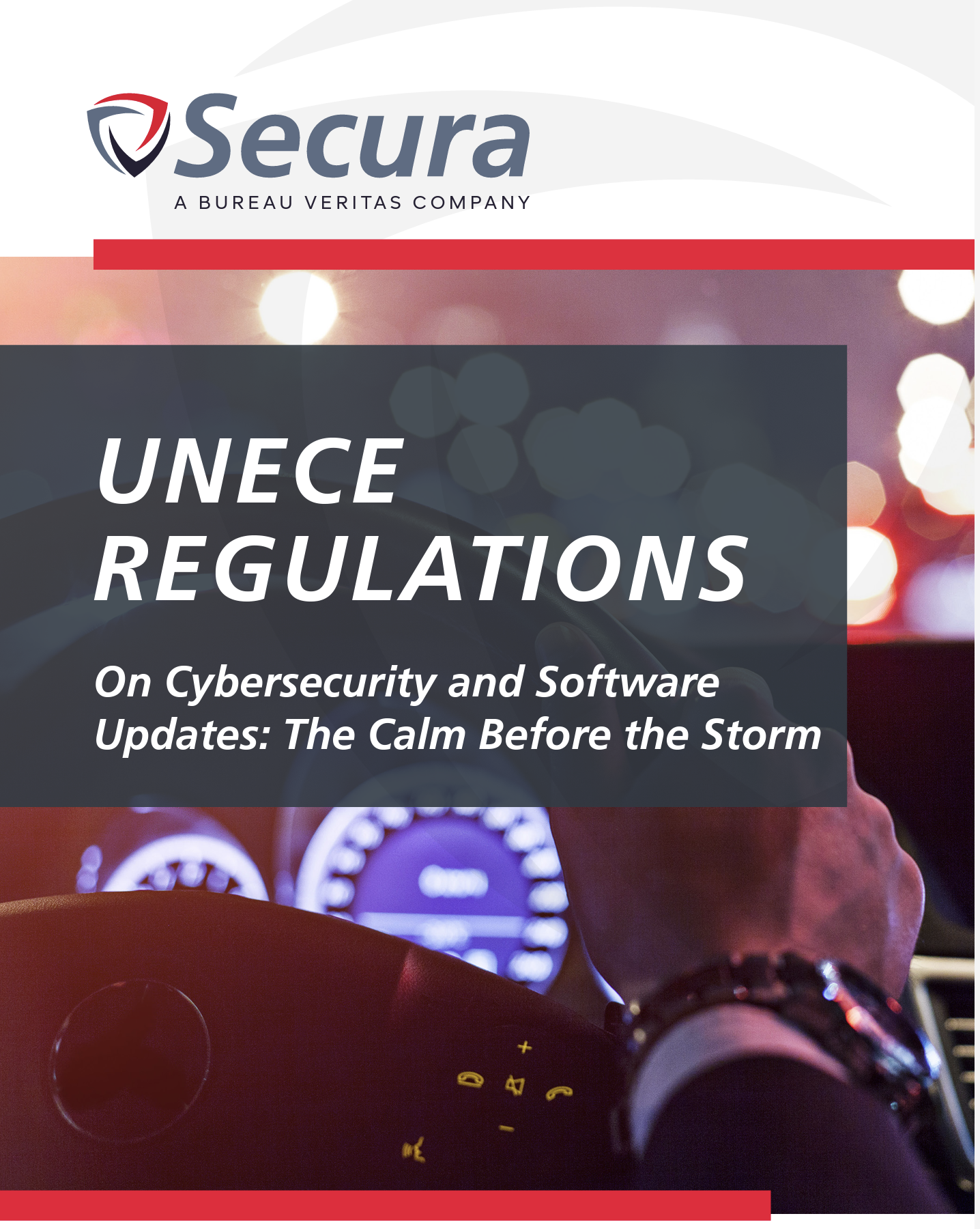 UNECE Regulations on Cybersecurity and
Overview of UNECE Automotive Regulations & Secura's services for Automotive Suppliers
Download
More Information
Would you like to learn more about our Testing & Certification Services for the Manufacturers and Suppliers in Automotive? Please fill out the form below, and we will contact you within one business day.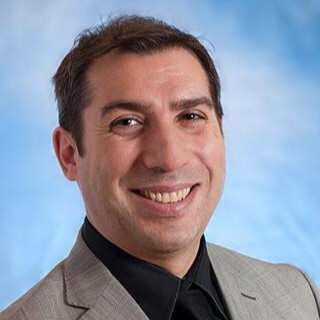 Related Services & Training Courses
UNECE Regulations on Cybersecurity & Software Updates Training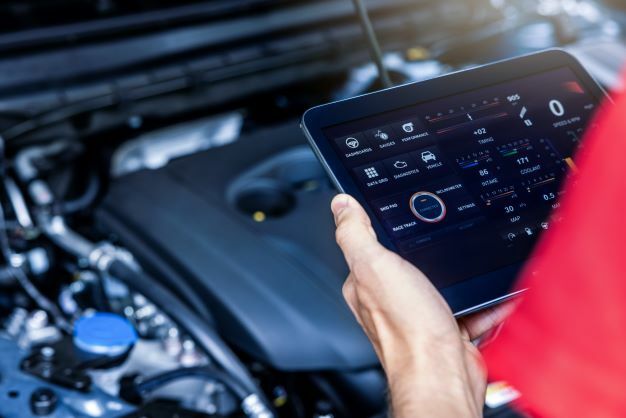 Discover what the UNECE Regulations on "Cybersecurity & Software Updates" means for vehicle manufacturers and suppliers in this training, led by Secura experts.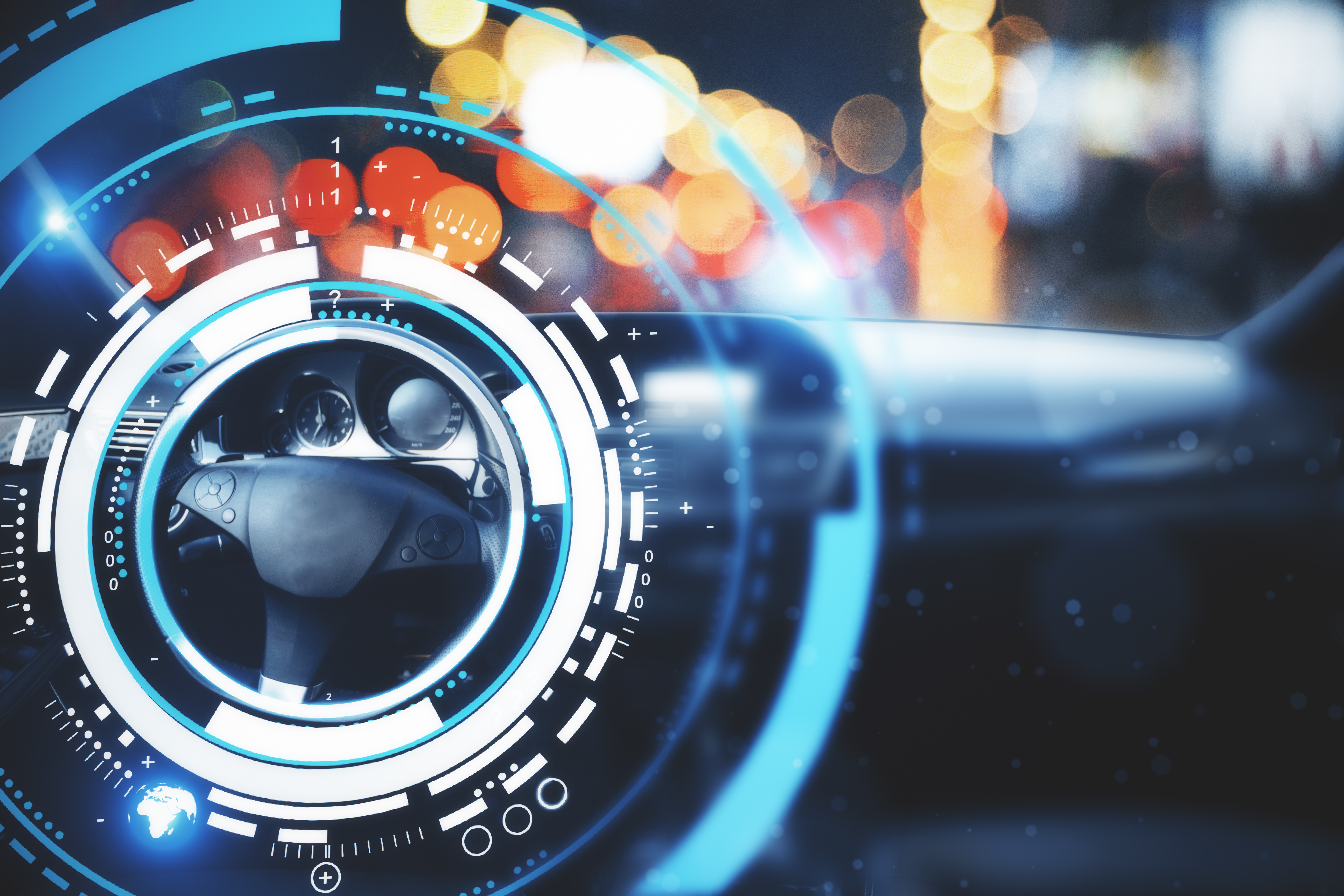 This training provides you with an overview of the IEC62443 series of standards. It presents the main cybersecurity concepts in industrial security and includes an overview of all the requirements contained in IEC62443.
ABOUT SECURA
Secura is a leading cybersecurity expert. Our customers range from government and healthcare to finance and industry worldwide. Secura offers technical services, such as vulnerability assessments, penetration testing and red teaming. We also provide certification for IoT and industrial environments, as well as audits, forensic services and awareness training. Our goal is to raise your cyber resilience.
Secura is a Bureau Veritas company. Bureau Veritas (BV) is a publicly listed company specialized in testing, inspection and certification. BV was founded in 1828, has over 80.000 employees and is active in 140 countries. Secura is the cornerstone of the cybersecurity strategy of Bureau Veritas.