Senior Business Continuity Management Consultant
(Only available in Dutch)

Jouw rol is gericht op de volledige inrichting, oefenen en testen van het Business Continuity Management (BCM) proces van de klant. Je brengt het BCM-programma bij jouw klant van de theorie naar de praktijk.
Je komt te werken in ons Behavior team. Dit team bestaat uit 8 collega's, waarvan twee consultants zich richten op tabletop oefeningen en het ontwikkelen van incident response plannen bij onze klanten. Dat biedt veel mogelijkheden voor jou om het gezicht richting onze klanten te worden voor onze dienstverlening. Voor grotere crisisoefeningen werken wij samen met ons technische experts binnen het ''red team'' van Secura.
Andere leden binnen het team richten zich op onze SAFE dienstverlening waarin medewerkers worden getraind in veiliger gedrag op het gebied van cybersecurity. Meer informatie over het team en onze dienstverlening vind je hier: https://www.secura.com/services/people.


Hoe kan jouw week eruit zien?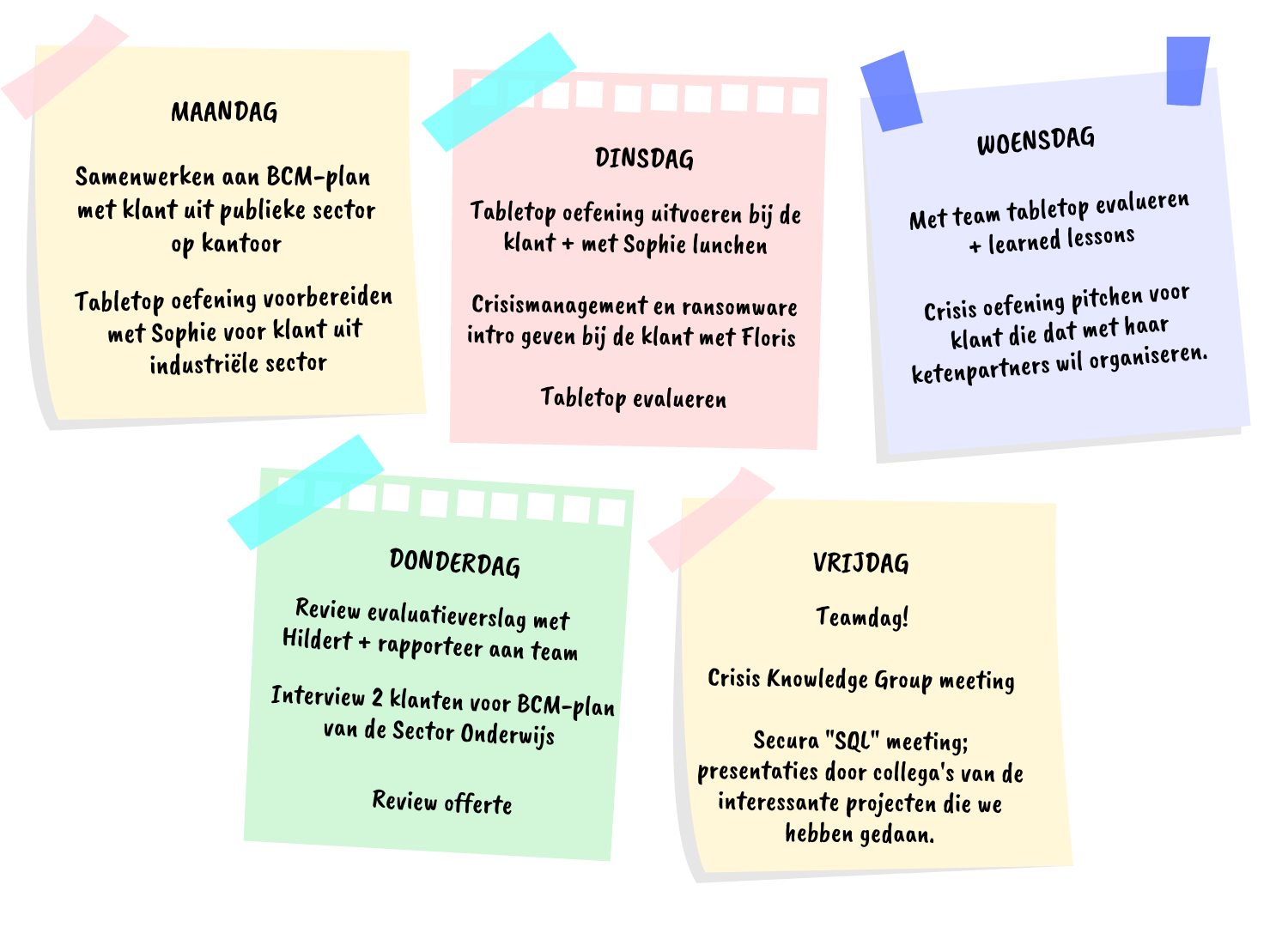 Als Senior Business Continuity Management Consultant:
adviseer, initieer, creëer en implementeer je BCM bij jouw klanten;
voer je Business Impact Analyses en Risk Assessments uit;
stem je Business Continuity Management programma's af op de ISO 22301- en NIST-vereisten;
werk je mee aan het (hands-on) opbouwen van het training portfolio;
ontwikkel en verbeter je onze Business Continuity & Risk Management dienstverlening;
vind je het leuk om klanten te helpen bij het voldoen aan de nieuwe NIS2 regulering door crisis oefeningen te organiseren voor de Raden van Bestuur & Crisisteams;
ben je zichtbaar op branche- en bedrijfsevenementen en heb je de ambitie om het gezicht richting onze klanten te worden voor onze dienstverlening;
ondersteun je met activiteiten op het gebied van crisis management en incident response.



Als onze Senior Business Continuity Management Consultant heb je:
ervaring met het ontwikkelen van BCM programma's en het succesvol uitvoeren met de implementatie hiervan;
bij voorkeur Disaster Recovery Institute International (DRII), Business Continuity Institute (BCI) of andere relevante certificeringen;
goede communicatieve vaardigheden (zowel mondeling als schriftelijk) in het Nederlands en Engels. Je moet kunnen adviseren en spreken op operationeel, strategisch en tactisch niveau;
ervaring met Disaster Recovery en/of Crisis Management en/of Incident Response is een pre.



Wat kun je bij ons verwachten?
Wij zijn een organisatie met een technisch security hart en we leveren op het gebied van digital security dan ook technisch zeer hoogwaardige diensten. Je komt te werken in een team van zeer gemotiveerde specialisten en kennisuitwisseling staat bij ons in een hoog vaandel.

Secura is een snelgroeiend bedrijf met ambitie. Jij hebt de mogelijkheid om mee te groeien en zo je loopbaan verder vorm te geven in verantwoordelijkheid, zichtbaarheid (intern en extern) en in het volgen van training en opleiding.
Inhoudelijk bieden wij je een heel diverse portefeuille van aansprekende klanten en opdrachtgevers.
We zijn onderdeel van Bureau Veritas waardoor er steeds meer internationale mogelijkheden komen, zowel voor het werken aan projecten alsook voor jouw carrière.

Ben jij de Senior Business Continuity Management Consultant die wij zoeken?
Graag ontvangen wij je CV per mail via jobs@secura.com. Heb je vragen? Stel ze gerust! Neem contact op met onze Corporate Recruiters Eefke Ruisbroek of Sara Busscher via +31 (0)88 888 31 00 of per email jobs@secura.com.

📌 Pre-employment screenings en assessments kunnen deel uitmaken van de recruitment procedure.
What our selection process looks like
Meet our recruitment team